AboutMaterial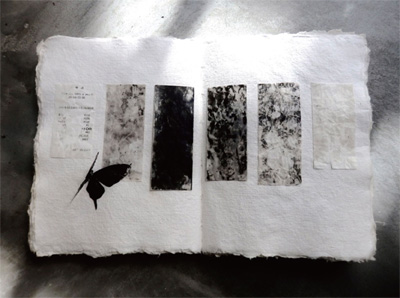 ---
私の素材制作は、その素材が語ろうとする言葉に耳をかたむけることから始まります。

なかでも現在、私が最も興味をひかれる素材はレシート
( 感熱紙) です。レシートのもつ俗性が移ろい消失していくさまは、作品のテーマを考えるうえで深いインスピレーションを私に与えてくれます。

レシートは表面に印字されていないさまざまな見えない
言葉、社会性、個人性、変容性、消失性、俗性、予見性などをたった一枚の薄い紙のなかに潜ませています。

その見えない言葉やイメージを引き出し、変容させ、ときには緩やかな封印をかけながら視覚表現として提示することが私の素材に対する仕事となっています。
My creations start with turning an ear to the words which try todescribe extremely common things in daily life.

Amonst these, currently the material which interests me the most are receipts(heat-sensitivepaper). The ways in which the attributes on the receipts distort and disappear provide me with great inspiration for thinking up themes for my works.

In but one thin piece of paper, receipts harborall kinds of invisible words not printed on thesurface relating to social factors, individual factors, attributes,
transformation, the ability to disappear, the ability to predict and soon.

It is my work to extract those invisible words and images for such materials, then transform and present them.